18 avril 2007
Hello everybody ! I know it was a while that I didn't talk with you !!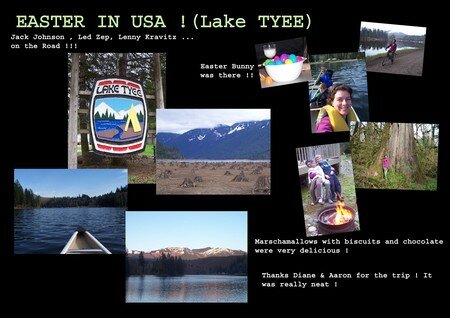 So , I spent Easter with my friend family nearby the Lake Tyee ! It was really neat ! We travelled with Aaron and Diane 's mobilhome listening Led Zep , Jack Johnson ... ! It was a nice w-e! On the road, most of american people were ridden their Harley D!
Of course, Mister Easter Bunny came in the mobilhome to drop the eggs off ! And I had some white chocolate, eggs, and the best "Laura Secord chocolate" (my favorite !!). Thanks Diane !
We spent the night to Mister Jeep cabane. It was awesome too! We ate marschamallows with chocolate and biscuit ! Hummm !
On the way home, we spent at the MALL where we did shopping ! (of course girls !)
Commentaires sur Easter !!